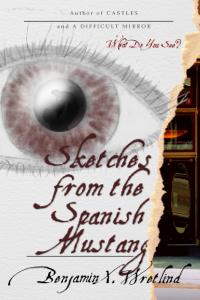 By Benjamin X. Wretlind
5 stars
Benjamin X. Wretlind's beautiful, haunting and, to a writer, mind-blowing Sketches from the Spanish Mustang is literature of the highest kind.
Sketches from the Spanish Mustang is a novel in disguise as a cycle of stories set in the town of Cripple Creek, Colorado, where the Spanish Mustang is one of a row of cheap casinos and bars on the main street. Each story in the cycle focuses on a character who is irrevocably damaged, close to shattering — and some do shatter in the telling of their tales. Linking them all together is The Artist, who sits across the street from the Spanish Mustang, drawing the people she sees in her sketchbook. When she fills the book, she hopes to achieve some kind of release or redemption, we learn.
Sketches from the Spanish Mustang crosses any number of literary boundaries. It meets the requirements for "contemporary urban fantasy," as ghosts, demons and perhaps the spirit of Death, itself feature prominently. On the other hand, it also qualifies as mainstream literature, because these fantasy genre devices could be interpreted as manifestations of delusion.
No, wait. They can't be. No, this is fantasy.
Unless ghosts and demons are objectively real ...
The plot
The first Sketch is The Five Fortunes of Fulano. Fulano is a migrant worker from Mexico who is brought into Colorado by human smugglers for some unspecified but clearly horrible employment. Misfortune strands him in the desert, where he meets a demon, or perhaps it's the spirit of Death. He strikes a deal, and his sacrifice is enough to make you weep.
Nathan is a good, if boring man who discovers his wife is cheating on him. This story gets close to black humour, but it's not for the squeamish.
The story of Mighty Chief Dan Chappose, I have to admit, made me cringe a little because the character is an alcoholic Native American. But Wretlind skirts the problem of stereotyping with a story so layered, sensitive and realistic that we see deeper than the stereotypes and ethnicity to a person haunted by history, family and ghosts of every definition.
It's not all gloomy, though; Betty and Veronica are two habitual gamblers with their own spots at the slot machines, feeding in quarters or dollars or whatever you put into slot machines these days, arguing about their systems for eventually winning. Josh and Brandon are two teenagers scheming to get booze at the Mustang even though they're underage:
"All he had to do was stroll in, sit down and spend a little of the allowance he'd been given last week. Nickel machines would be fine, Brandon had told him. The idea was to see if the waitress would give him a drink without asking for identification. They'd rehearsed what to say and how to say it, made sure their seventeen-year-old facial stubble was grown out enough and trimmed appropriately and reviewed the case files of the rumors at the high school—kids who'd pulled off the impossible, kids who managed to get free drinks without being accosted."
Writing chops
While each Sketch is a separate story — Wretlind published a number of them separately as short stories — the author weaves them together skilfully. Each Sketch separated by a chapter about the Artist or the Town of Cripple Creek, which is a character in itself.
The different characters cross paths and interact; Carolyn is the waitress that Josh and Brandon ask for drinks; her boss is the man sleeping with Nathan's wife, and so on. While the characters are leads in their own stories, they're also supporting cast in each others', even though they don't know it.
Wretlind crosses that artificial border between fantasy and literature, between dream and reality. (Let's face it: by definition, any fiction is a fantasy, anyway.) By weaving together the different stories of these solid, flawed, sympathetic and realistic characters, including the town of Cripple Creek itself, the author demonstrates not only the social ties that link all of humanity, but sketches a picture in itself of the invisible energy that links all of us.
And it's that energy that ties all these disparate stories together and makes this book well worth reading.
A professional, artistic style
As a writer, Wretlind is a professional artist. His writing is lean, without any excess. Yet, he also manages to be descriptive, and I appreciate this kind of writing.
Only a handful of people walked up and down the sidewalks in front of the casinos. Most were inside, looking for that one chance at supposed financial freedom that had hitherto evaded them. An older couple—maybe in their mid-sixties—sat on a bench almost directly across from her. Their faces were locked in perpetual frowns; cigarettes dangled from shaky hands. The man wore a leather jacket, festooned with embroidered motorcycle festivals of the past: Sturgis, Daytona, Lone Star Bike Week. His white beard hung to his chest, contrasting the dark jacket and the even darker Greek fisherman's hat which no doubt covered a receding hairline. He suddenly guffawed at something the woman said and patted her thigh. His smile quickly returned to a frown. With her skinny jeans and rhinestone-speckled denim jacket, the two would make a good subject to sketch . . . but not today.
At the same time, Wretlind avoids the mistakes many new writers make. There are no information dumps; he describes the characters, but we learn their back stories as we read the tale. We don't have to read page after page about relationships or history or the structure of arcane brotherhoods. The personal is universal; the specific is general. We put together the big picture by focusing on details.
Just like in life!
You can find Sketches from the Spanish Mustang on

Smashwords

,
Amazon
, Barnes & Noble, iBooks, the
Kobo bookstore
,
Diesel, the Sony Reader Store, and other major retailers.
And also be sure to look up Ben Wretlind's own blog,
Drippings from the Mind of Me
.