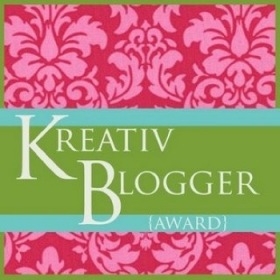 I feel very pumped today, and I have received two nominations for Kreative Blogger awards, and at least one for the Versatile Blogger.
The first came from RS Guthrie, my very good Twitter and blogger friend and, more importantly, an excellent writer (his first two novels are Black Beast and Lost). Then, I noticed I had been nominated by several others, as well: Alan McDermott, author of Gray Justice. Finally, I just found that Wendy S. Russo nominated me for a Versatile Blogger.
First, thanks very much for these. Coming from such talented writer excellent books on the market and an top-notch blogs, it means a lot.
The way that the Kreativ Blogger Award works (apparently; I can't claim to know much about it beyond what Rob wrote), I have to tell you 10 things you don't know about me (and as Rob says, I have to make them
interesting
), and then nominate six other blogs for the award.
10 interesting things you didn't know about me
I have launched a stealth campaign to minimize capital letters in sub-headings.

I used to teach English in colleges in Ontario.

I have never been to eastern Europe, other than through Google Earth.

Even though I was born in Winnipeg, I did not learn to skate until adulthood.

I dented an elevator in Athens. That hurt.

My last name has changed twice in my life, but "Bury" is the one that I'm sticking with, and it's my real, legal name. You can find me, if you try.

On the rare occasions when I do cook, I don't like having anyone help me.

I am purposely trying to write books that are different from anything else every published, but you have to dig deep to see where the difference is.

I can fix things around the house, but it takes a long, long time, and I often break something else in the process. So it's kind of a self-extending project.

I haven't been able to find time for working out for months. Yes, Nike, get off my back. I'll do the same too, eventually—once I get up the nerve to step on the scale again.
Six blogs that I nominate
:
Some others that I heartily recommend:
There are so many more. The writing community is truly a supportive one, and I'm very proud to be included in the words, tweets, posts and thoughts of the many people out there who have read my words, contributed comments, retweeted and reviewed.
So, please, all of you, check out all the blogs above. If you think any deserve it (and many do), check them out, leave comments, tweet about them, list them on Facebook, whatever it takes. Let's get the word out!