Get it now:
Authors defying commercial publishers and literary convention

leaping genre boundaries

and breaking rules.
Now get these hot new works — free.
BestSelling Reads brings together the best in new fiction — and gives you the chance to win a big honkin' bunch FREE on a brand new iPad Mini!
Enter BSR's great February Giveaway for a chance at a brand-new iPad Mini pre-loaded with an e-book from every BestSelling Reads member.
DON'T DELAY – THIS OFFER ENDS ON FEBRUARY 28, 2014.
ENTER NOW!

Take a look at a few of the cutting-edge books you could win:

JAGUAR SUN (Jaguar Sun Book 1) by
Martha Bourke
: A teenage shape-shifter discovers she is meant to ease the world's transition to a New Age as the Mayan calendar ends and a new world begins.
DOING MAX VINYL by
Fred Brooke
: Recycling fraud Max Vinyl suffers the worst week of his life when his environmentalist girlfriend, Tris, and returned Iraq War vet Annie Ogden team up to take him down.
THE BONES OF THE EARTH by
Scott Bury
: It's the Dark Age, the earth has determined to erase human civilization with earthquakes, floods and plagues — and a young disabled must solve the riddle of the bones of the earth to save the woman he loves.
LICENCED TO THRILL, VOLUME 4 by Diane Capri: Four smart thrillers where justice rules!
SHADOW CAY by Leona DeRosa Bodie: Someone wants to make sure the Nesbitts never make it out of paradise alive.
THE NINTH DISTRICT by
Doug Dorow
: the Federal Reserve has never been robbed and FBI Special Agent Jack Miller means to keep it that way.
GONE AT ZERO HUNDRED by
CR Hiatt
: Two 18-year-old sleuths take on the perilous underworld in a club called The Devil's Door.
RED MOJO MAMA by
Kathy Lynn Hall
: Lydia "Red" Talbot has lost her mojo and getting it back means having to change a few things in her life.
3 LIES by
Helen Hanson
: Can a corporate dropout rescue his girlfriend before her kidneys fail or a CIA mission spins out of control?
SHADES OF GRAY by Andy Holloman: Combine Breaking Bad with a dark remake of The Love Boat and you have all the colors in Shades of Gray.
LEAH'S WAKE by Terri Giuliano Long: This award-winning novel explores the struggle of teenagers coming of age, and coming to terms with the overwhelming feelings that rule them and the demanding world that challenges them.
PRICELESS by
Shannon Mayer
: A missing child, a werewolf for a pet, and the FBI on her tail — what could go wrong?
BLOOD ORCHIDS by
Toby Neal
: A fast-paced crime novel with a twist of romance, set on Hawaii.
SECOND CHANCE GRILL by Christine Nolfi: When Dr. Mary Chance inherits a restaurant in Liberty, Ohio, she can't resist falling for precocious Blossom Perini — or the girl's father. The bond they forge will transform all their lives and set in motion an outpouring of love that spreads across America.
MOONLIGHT ON THE NANTAHALA by Micheal Rivers: A story of dedicated friendship and undying love that will haunt your soul.
ARCADIA'S GIFT by Jesi Lea Ryan: Most people only experience death once. Arcadia Day is not most people.
CASSIDY JONES AND THE SECRET FORMULA by
Elise Stokes
: Discover how Cassidy Jones gains superpowers in her first action-adventure — an positive esteem-builder for teens, boys and girls.
BROKEN PIECES by
Rachel Thompson
: It is rare when a writer puts so much of him or herself on the paper that you can see them bleed, but Rachel Thompson boldly steps out of the shadows and puts herself in the light that shows her wounds, her flaws, her heart and you can't help but be moved.
AMELIA'S STORY by
D.G. Torrens
: A life of pain and rejection — the powerful true story of one young girl's struggle to survive the state care system in the 70s and 80s.
SAY MY NAME by
Rebecca Tsaros-Dickson
: A tale of two lovers in their 40s coming to terms with their true feelings after decades of unrequited passion. Anyone who has ever loved, lost and held out hope in spite of it all will see a piece of themselves in this novella — and it may not be easy to face.
POST-APOCALYPTIC NOMADIC WARRIORS by
Ben Wallace
: A fast-paced action and adventure novel set in a horrific future that doesn't take itself too seriously.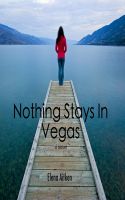 NOTHING STAYS IN VEGAS by Elena Welch-Aitken: When Lexi is confronted with the past, she can no longer deny the truth to anyone because as she now knows, what happens in Vegas, stays in Vegas — except when it doesn't.
MILL PEOPLE by Alle Wells: Jesse Finney's story captures the life of a Southern mill town from the late 1800s to the mid-twentieth century.
LAST ONE CHOSEN by Stephen Woodfin: How do you neutralize the most dangerous man on the planet?
Plus more action-adventure, thriller, romance, humour, science-fiction and non-fiction from
John-Paul Davis
Kirkus MacGowan
Alan McDermott
Mohanalakshmi Rajakumar
And David Vinjamuri
CONTEST CLOSES FEBRUARY 28.
Enter now:
BestSelling Reads' February Deal